Full Protection, Total Security
iTel's Managed Security provides the comprehensive protection that your business needs to avoid a breach. All it takes is one incident to entirely stall your operations, and in today's digital world, protecting your network is protecting your business.
Despite more high-profile security failures making headlines, many businesses are still unprepared. With iTel's full suite of Unified Threat Management, you can rest easy knowing your data is secure and protected.
iTel Managed Security Includes

Managed VPN
Safeguard your data across any distributed enterprise
Unified Threat Management
Robust functionality on one platform. Streamline your systems without losing performance.
Managed Firewall
Protect your LAN from external threats with customized configuration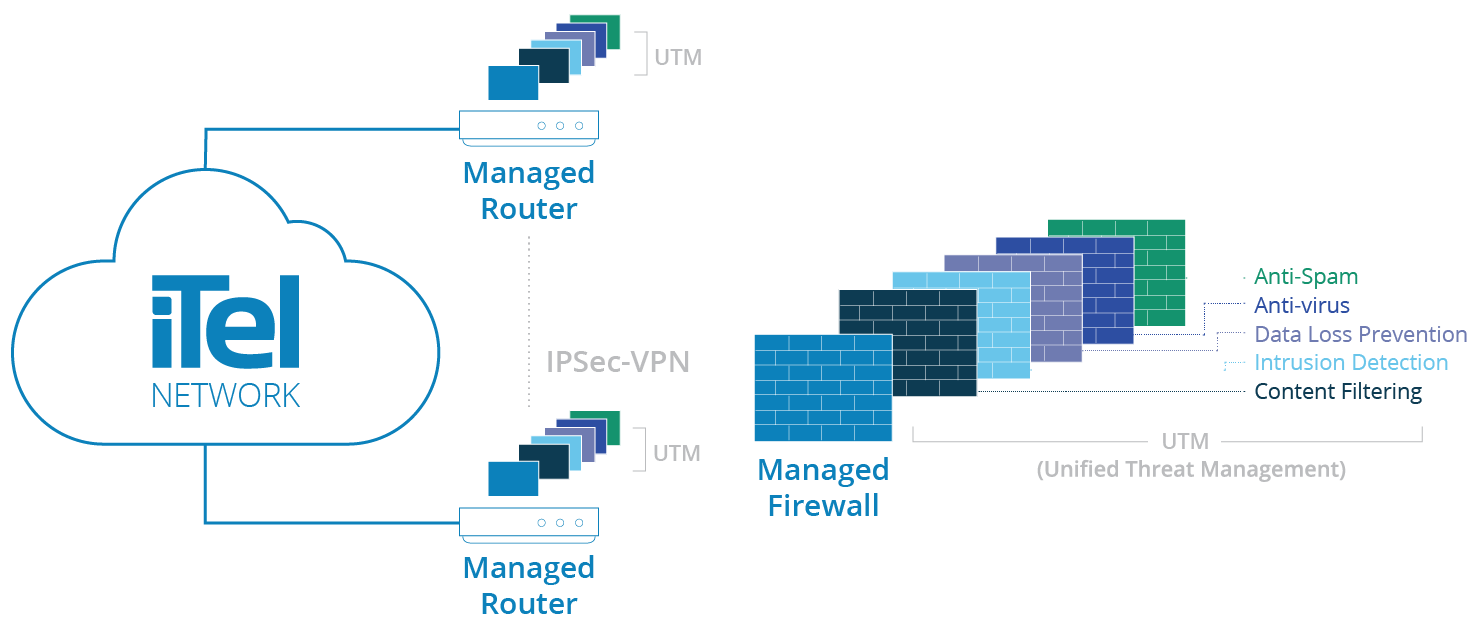 Enterprise-Quality
Securing our network – which is one of Canada's largest – is a top priority at iTel. Our team of experts is ready to build you the same high level of security we use on our own assets, so you can expand your network safely. Add points of entry without adding risk.

Robust Features
Our unified threat management suite provides comprehensive protection from spam, viruses, malicious actors, data loss and intrusions. Don't lose sleep over what's lurking in the shadows – make informed decisions about your security policy with real-time statistics and performance insight.
Peace of Mind
Rest easy knowing your data is private and your network is fully secure. With iTel's Managed Security, your business is in good hands.
Managed Security Benefits
Eliminate costly maintenance and IT overhead.
Canadian-based, business-only technical support, available 24/7/365

An advanced suite of enterprise services, all on one bill
Add Value with iTel Managed Services
With iTel's full suite of managed options, you can leverage all the power of enterprise-grade services – on one simple monthly bill.
Managed Cloud Connect
The cloud is a powerful tool for modern businesses, but connecting via the public internet is an unnecessary risk. iTel's Managed Cloud gets you secure access to all the major providers.
Managed Business Continuity
If your failover is just a second connection from your main carrier, you're still at risk from core outages. iTel offers carrier-agnostic and SD-WAN options to ensure you're always online.
3 Ways to Find a Solution
Get iTel Managed Security Today
What is colocation? Often referred to as "colo," this is the practice of putting your data (stored on a server) into a shared data centre. The primary goal of colocation is to reduce costs and reduce the manpower needed to manage hardware. As the client consuming...