iTel Managed Security Covers All Your Bases
Despite data breaches happening more often, businesses are regularly unprepared – and all it takes is one incident to entirely stall your operations. With iTel's full suite of Unified Threat Management, you can rest easy knowing your data is secure and protected.
iTel Managed Security Includes

Managed VPN
Safeguard your data across any distributed enterprise
Unified Threat Management
Robust functionality in a single device, eliminating the need for multiple systems
Managed Firewall
Protect your LAN from external threats with customized configuration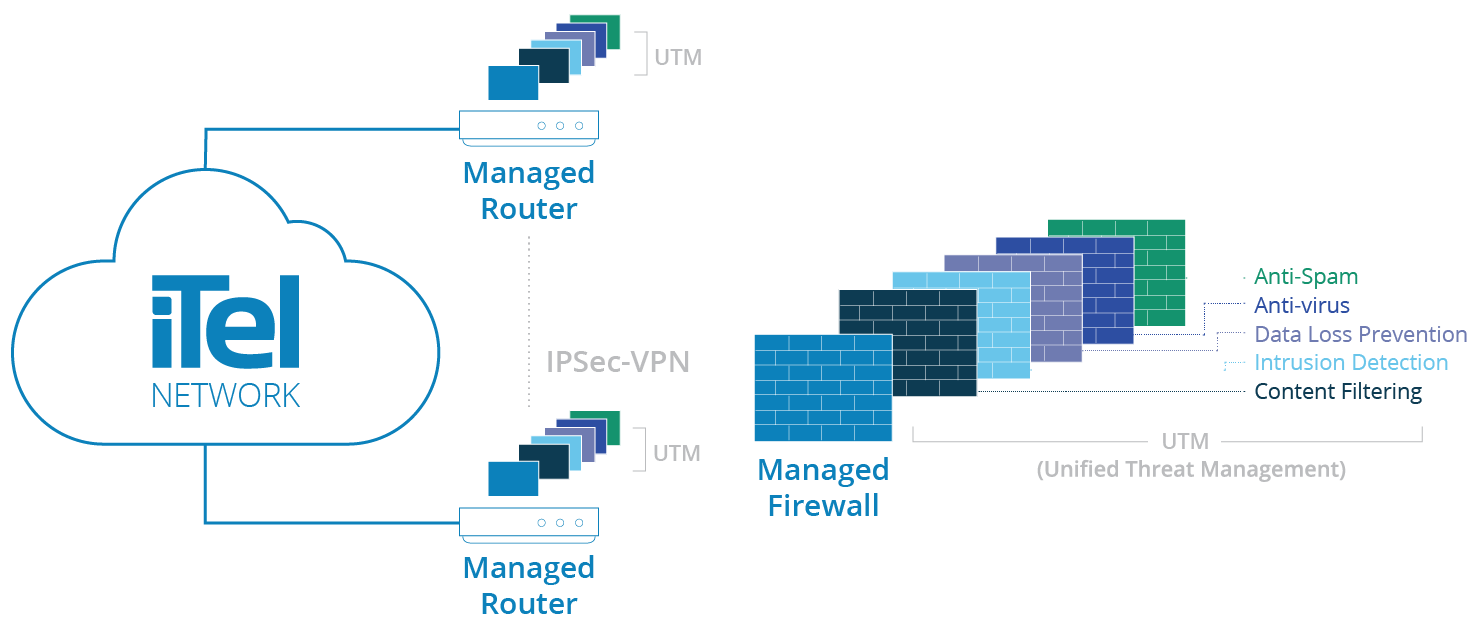 Don't Take Risks With Your Network
Managed security provides advanced protection on your iTel Router

Enterprise-Quality
Securing our network – one of Canada's largest – is a top priority at iTel. Our team of highly-skilled experts is ready to build you the same high level of security we use on our own assets.

Robust Features
Protect your organization from spam, viruses, malicious actors, data loss and intrusions. Access a performance dashboard to see realtime statistics and make informed decisions about your security policy.
Peace of Mind
Rest easy knowing your network is fully secure. You're in good hands with iTel.
Managed Security Benefits
Eliminate costly maintenance and IT overhead.
"No-holds" 24/7 local Canadian L3 technical support.
One bill for everything you could need
Add Value with iTel Managed Services
With iTel's full suite of managed options, you can leverage all the power of enterprise-grade services – on one simple monthly bill.
Managed Cloud Connect
The cloud is a powerful tool for modern businesses, but connecting via the public internet is an unnecessary risk. iTel's Managed Cloud gets you secure access to all the major providers.
LEARN MORE
LEARN MORE
Managed Business Continuity
If your failover is just a second connection from your main carrier, you're still at risk from core outages. iTel offers carrier-agnostic and SD-WAN options to ensure you're always online.
LEARN MORE
LEARN MORE