Your Custom, End-to-End Network Solution – Fully Managed, Anywhere Work Takes You.
Carrier-diverse, wireless, and fully managed continuity solutions for the always-on organization
Mix & Match Connectivity
Get the bandwidth you need for all your locations – via the largest business internet, voice & data network in Canada
Broadband
High speed & reliable – available from coast to coast
Dedicated Internet Access
Connectivity with high security standards, QoS, & more
5G/LTE Business Internet
Wireless connectivity for remote locations
Fixed Wireless, Satellite, & More
Extensive coverage options for all your sites
Choose Your Own Cloud
At iTel, we're already integrated with most major cloud providers. Unite all your public, private, and hybrid cloud infrastructure while enjoying secure, scalable access speeds.
Managed Cloud Connect
Extend to AWS, Azure, and other leading cloud providers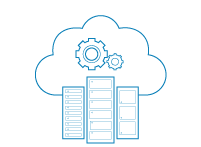 Managed Colocation
Concentrators available, hosted in the iTel data centre
...Or Build Your Own
Fully meshed, customized data centre solutions
Management & Visibility Options
Rest easy knowing our specialists have your back. With iTel managing your services and equipment, you can leave the work to us – all of it.
Managed Connectivity
Proactive monitoring & remote issue resolution for 24/7 reliability
Managed Continuity
Intelligent path control to take you beyond failover
Managed Router
Expertly configured, installed, and maintained hardware
And Everything Else You Need
Our extensive portfolio of services covers your entire IT stack. iTel can integrate everything that touches your network.
With Comprehensive Security
With iTel routers and circuits, securing your network is simple.
Managed Network Security
A robust suite of Unified Threat Management tools
DDoS Protection
Detect & Scrub Malicious Traffic
...All On One Bill
Your End-to-End, Fully or Co- Managed, SASE Network Solution – Backed Up by Our Tier 2 NOC
Business Exclusive Support
Real Talk, Real Customers
Don't take our word for it – Explore case studies to learn more about the iTel experience.