Unlock Your Business Potential with Cloud Communications
Does Your Business Phone Keep Up?
The modern office looks different than it did even a few years ago. Businesses today are on the go, employees work varying hours, and a lot of work is done remotely. If this sounds like your organization, then your traditional, on-premise PBX isn't meeting your demands.
The Power of a Hosted PBX
A Hosted PBX is a cloud-based phone system accessed via your IP network and has the power to perform all your business communication needs. By taking your PBX off-premise we remove failure points and create a single point of control for your entire voice infrastructure. As long as your staff has access to internet or LTE on their mobile, they have the power of their desktop phones wherever and whenever.
Service Your Customers Better
Good communication is at the heart of every sale and every happily-served support customer.  iTel Hosted PBX offers specific resources that'll help you improve your customer relations.
Be an "Always-on" Business
When customers call you, they should never get a busy signal. Not only is it frustrating, but it could also result in lost revenues.
iTel Hosted PBX offers a unique protocol called

burstable capacity

. This system assures that your phone lines will never ring busy – ever.

Another benefit is burst billing where you only pay for the lines that you use – a huge cost savings advantage. Should you need more during peak times, we can automatically burst your line capacity to handle the influx of calls.
Streamline Your Auto-Attendant
iTel Hosted PBX offers a comprehensive auto-attendant system that's completely customizable. Create a phone journey that connects your customers to the right people and right departments in the quickest and most user-friendly way.
Real Benefits with Real Results
Open up possibilities with a cloud communications systems that empowers your business to do more.
A cloud-based phone system offers these benefits:

Reduce Costs
A single iTel Hosted PBX can replace the legacy phone systems at all your locations. There's no hardware to break or depreciate and no service charges for system changes.

Supports Business Growth
This system is effortlessly scalable. As your business changes and grows, you can roll out new features and add or remove phones and phone lines with ease.
100% Uptime Guarantee
Your Hosted PBX exists in multiple data centres across the country. Even if the lines to a location are cut, you'll still have access to your systems and calls can be re-routed to cell phones.
Share Your Resources
Seamlessly route calls between all your locations. Instead of having to staff for peak call volumes, any overflow calls for a Calgary office can be answered in Vancouver. A single receptionist can answer calls from across the country.
Device Integration
iTel Hosted PBX supports the BYOD (bring your own device) philosophy, namely mobile integration. Connecting your business phones to employee mobile phones allows your business to be always on and your staff just a phone call away.
The iTel Hosted PBX system comes with a rich set of features that can be implemented via our easy-to-use online portal. You can manage calls and features from any device with an internet connection and without the need to call your voice provider. Make configuration changes, move resources around, modify users settings, change reporting, auto attendant, hunt groups etc. with the click of a button.
Call Labels
Label calls to see which department or product the caller is inquiring about, allowing staff to answer calls accordingly.
Dynamic Outbound Caller IDs:
Easily change your outbound caller ID. A handy feature for phone systems supporting multiple businesses.
Public Address:
Connect your intercom to external audio systems, eg. paging in a warehouse.
Voicemail Blasting:
Leave voicemail messages to multiple users at once.
Toll-Free, Local, or Vanity Numbers:
Create a virtual presence even where you don't have a physical office.
Video Calling:
Take your phone meetings to the next level through our Polycom VVX with the attached camera.
Personal Find Me and Follow Me:
Allows users to receive calls at any location and be reached at multiple phone numbers.
Channel Spy:
Allow an extension to break into a call at another extension.
Burst Billing:
Your phones will never ring busy again. iTel's burstable capacity gives you more lines during peak call volumes.
Call Tracing:
Mark inbound calls that require tracing or follow-up.
Voicemail to Email:
Receive email voicemail notifications and voicemails emailed as attachments.
Custom On-Hold Music:


Sold on hold. Inform your customers with music and custom promotional material with breakout options to request call back or inform on wait.
Day/Night Control:
Route calls according to the time of day.

Call Recording:


Improve quality control and train new employees faster. Review calls to catch important details.
Consultation Hold:
Allow callers to be put on hold while user calls another extension.
Ring Groups:
Have calls ring to multiple phones in a department at the same time.
Conference Calling:
Host remote meetings and connect multiple staff and clients. together. Multiple conference rooms can be created, with up to 50 participants in each room.

Soft Phones:


Instead of purchasing physical hardware, run your phone system on your computer using a headset.
Caller Management Queue:
Place incoming calls on a waitlist to be answered.
New Message Indication:
Your phone will flash indicating you have new messages waiting.

Presence Across Multiple Devices:


Connect on cell phones, softphones, desk phones and more.
Virtual PBX Graphical User Interface (GUI):


Online portal allowing you to edit and add extensions, modify queues, manage call flow, and review detailed call log reports.

Detailed Call Log Reports:


Track and review call statistics to gain insight on how your business uses its phones.

Less Than 1 Minute Wait Times:


Skip the support call loop and speak to a real person within minutes.

Nightly Backups:


The cloud-based PBX performs nightly cloud data backups.

24/7 Free Customer Support:


Emergency technical support is always one call or click away.

Canada-Based Technical Support:


Connect with our team of highly trained technicians based out of our head office in Kamloops, BC.
Auto Attendant (IVR):
Auto attendant to efficiently route your calls.
Advanced Call Forwarding
Dial-by-Name Directory

Unlimited Companies

Do Not Disturb

Unlimited Calling

Call Parking

Unlimited Extensions

Call Transferring Options

Breakout Option in IVR Queues
Through years of testing and implementing phone hardware, iTel recommends the Grandstream GXP/GXV line based on cost and gigabit ports for passthrough. We also recommend various Mitel/Aastra and Polycom makes and models. In addition to these suggestions, our team has the ability to provision any SIP phone from our partners.
6 lines 6 SIP accounts, up to 6-way voice
conferencing and 3-way video conferencing
Dual-switched Gigabit ports and integrated WiFi (802.11b/g/n)
1 megapixel CMOS camera
4.3 inch (480×272) capacitive touch screen
Runs Android version 4.2 and offers full access to the Google Play Store
Bluetooth for headsets and pairing mobile devices, USB port,
SD card slot, mini-HDMI output for connection to TV monitor,
EHS for Plantronics headsets
6 Line appearances
Support for G.722 HD Voice
4.3" (480×272) TFT Color LCD Display
Dual Gigabit RJ45 Ports
Power over Ethernet
RJ9 headset port
24 programmable BLF extension keys
Support for Electronic Hook Switch (EHS) with Plantronics Headsets
Supports 4 lines, 4 SIP accounts and 5-way voice conferencing
HD audio on speakerphone and handset,
5 programmable context-sensitive soft keys
Compatible with GXP2200 LCD extension module (GXP2200 EXT)
4.3 inch (480×272) color-screen LCD
Dual Gigabit ports, integrated PoE
Integrated Bluetooth for use with Bluetooth headsets and
Bluetooth-enabled mobile devices (transferring contact books and calls), USB, EHS for Plantronics headsets
2 SIP accounts, 2 line keys, 3-wayconferencing,
3 XML programmable context-sensitive soft keys
HD audio on speakerphone and handset
Dual-switched Gigabit ports, integrated PoE
8 dual-colored BLF/speed dial keys
EHS support for Plantronics headsets
128×384 backlit LCD display
20 programmable dual-color buttons per module,
2 pages per module (40contacts total)
BLF/speed dial
Daisy-chain up to 4 modules for up to160 contacts/extensions
BLA (bridged line appearance)/SCA (shared call appearance), BLF (busy lamp field, standard or eventlist), Call Park/Pick-up, Speed Dial, Presence, Intercom, and conference/transfer/forward and more
Large 3.4", 128×48 pixel LCD display
8 programmable keys
Support for up to 24 lines when
connected to an expansion module
Gigabit throughput for PC connectivity
Flexible headset support (wireless, DHSG/EHS and USB)
Large 3.5" color backlit LCD display
6 programmable keys
4 programmable context sensitive keys
Support for up to 24 lines when connected to an expansion module
Gigabit throughput for PC connectivity
Flexible headset support (wireless, DHSG/EHS and USB)
Optional detachable keyboard and expansion modules
Optional Equipment: Mitel M685i
4.3" 480×270 pixel color backlit LCD display
28 programmable soft keys with LED
Supported on the 6865i, 6867i and 6869i
Can be daisy chained with the M685i
for a combined total of up to 3 modules
No separate power adapter is required
Polycom SIP & Conference Phones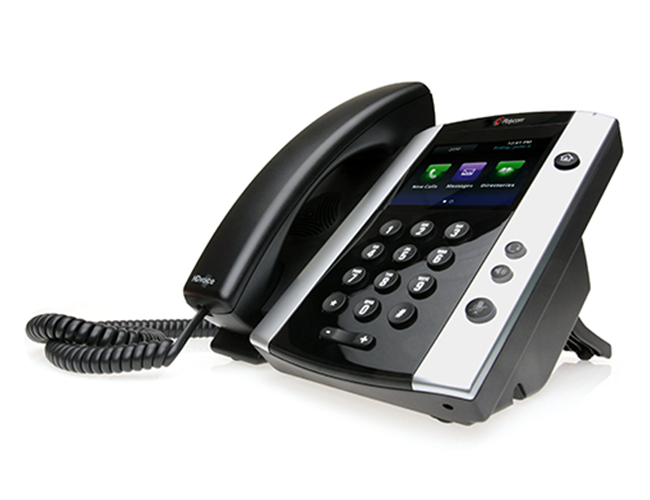 3.5-in TFT LCD display at QVGA (320 x 240 pixel) resolution
4:3 aspect ratio
Up to 24 simultaneous calls
Two-port gigabit Ethernet switch
On-screen virtual keyboard
Polycom® Acoustic Clarity™ technology, providing full-duplex conversations, acoustic echo cancellation, and background
noise suppression
Polycom® HD Voice™ technology delivers lifelike voice quality
4.3 in LCD (480 x 272) resolution
16:9 aspect ratio
Dual USB ports (2.0 compliant) for media and storage applications
Polycom® Acoustic Clarity™ technology, providing full-duplex conversations, acoustic echo cancellation and background noise suppression
Polycom® HD Voice™
Two-port gigabit Ethernet switch
Local 3-way audio conferencing
VVX Colour Expansion Module
4.3 in LCD (480×272 pixel resolution)
28 multifunctional line keys configurable as line registration, call appearance, speed dial, DSS, or BLF
Dual-color (red or green) illuminated LEDs for line status information
Up to three VVX Expansion Modules can be attached to any VVX phone
Powered by Polycom VVX host phone
IEEE 802.3af POE (built in)
Optional external universal AC power supply: 100-240V, 0.4A, 48V/19W
Size (pixels): 248 x 68 (W x H)
White LED backlight with custom intensity control
Shared call/bridged line appearance
Called, calling, connected party information
IP Address Configuration: DHCP and Static IP
Local three-way conferencing
Volume: Adjustable to 86 dB at 1/2 meter peak volume
IEEE 802.3af POE (built in)
Optional external universal AC power supply: 100-240V, 1.3A, 48V/50W
Size (W x H): 255 x 128 pixels
White LED backlight with custom intensity control
Shared call/bridged line appearance
Called, calling, connected party information
Full-duplex: Type 1 compliant with IEEE 1329 full duplex standards
IP Address Configuration: DHCP and Static IP
Volume: Adjustable to 88 dB at ½ meter peak volume
Background noise suppression
If your company is interested in another make or model not shown above or wants to integrate existing hardware, iTel can accommodate subject to successful completion of testing. Unrivalled Support and Service
There is nothing more frustrating than waiting on hold for hours or getting the technical support call loop runaround. When you call iTel Support, you're connected with a human based out of our Canadian headquarters in less than one minute. Our Support Technicians are expertly trained to fix your problems on the first call.
 LET'S FIND THE RIGHT SOLUTION FOR YOU
Please contact us for any additional information. We would be more than happy to direct you to the resources you need, or to put you in touch with an iTel Associate who will be able to answer all of your questions.
1.888.899.iTel (4835)